Description
For those who want the most minimalist skincare routine but still value long term skin health and fresh, plump, radiant skin this is duo is our 2 best selling products. Our first 2 core products. 

1. Our 3 in 1 Fresh Face Enzyme Cleanser to gobble up all those dead skin cells and reveal fresher smoother skin. It's a 3 in 1 because its a cleanser but its also a gentle exfoliant and enzyme mask. Simply leave on clean dry skin for 10 mins a few times a week and let those enzymes do their best work, before moving onto step 2
2. Our Dew Drops. An all in one face oil that replaces the need for moisturiser, eye cream, serums, primer and even works as a body, bath & hair oil 
Read more about Dew Drops here
And our Fresh Face Enzyme Cleanser here 
Less Is More Duo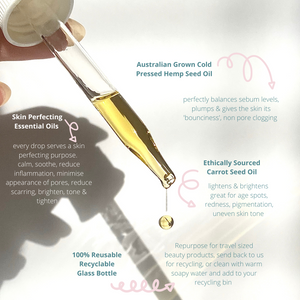 Clean, Pure Beauty
Just how us Aussies like it
You wont find any cheap or nasty fillers in any of our products. Literally every drop has its purpose and is working towards LONG TERM skin health, not just a short term quick fix. Although we're pretty good at that too.