Description
Specially formulated for men to beat the bumps & irritation caused by shaving while keeping the skin balanced, smooth and clear
 My claim to fame:
No more beard dandruff

Soothe shaving rash

Reduce skin conditions such as eczema & psoriasis

Reduce redness

Balance dryness/oiliness

Reduce & clear breakouts

Smooth & soften the skin tone
INGREDIENTS: 

Australian cold pressed hemp seed oil, Jojoba essential oil, Carrot seed oil, Lavender pure essential oil, Frankincense pure essential oil, Roman chamomile essential oil, Cedarwood essential oil

Directions for use: cleanse skin well prior to use. Apply 3 drops to each cheek (more in beard & neck area if necessary). Massage in small upward circular motions for at least 30 seconds all over face & neck avoiding eye contact. And you're done.

Do this morning & night for optimal results

Hot tip: to keep skin youthful & healthy don't forget to apply spf before hitting the outdoors
Men's Dew Drops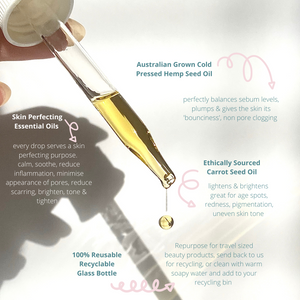 Clean, Pure Beauty
Just how us Aussies like it
You wont find any cheap or nasty fillers in any of our products. Literally every drop has its purpose and is working towards LONG TERM skin health, not just a short term quick fix. Although we're pretty good at that too.