Description
SAVE OUR SKIN Spot Treatment 
We created this spot treatment to target those stubborn breakouts that need an extra budge and we formulated it with the absolute best earth born ingredients on the planet. Every precious drop in this bottle is there for a purpose and we've spared no expense in ensuring your skin is getting the best spot treatment available.
We wanted to make sure we don't dry out or dehydrate the skin like most spot treatments on the market. Our goal is to always heal, nourish & repair the skin naturally with a focus on long term skin health. 
This product is small but MIGHTY. It will last 6+ months depending on usage, a little goes a very long way. A great little product to have in your skincare Arsenal for those breakout emergencies 
100% PURE NATURAL CONCENTRATED VITAMINS. ZERO FILLERS, ZERO NASTIES WITH AN EMPHASIS ON PLANT BASED, ORGANIC INGREDIENTS. EACH & EVERY INGREDIENT IS THERAPEUTIC
8 Hero Ingredients & nothing more:

Frankincense Organic Essential Oil, Australian Cold Pressed Hemp Seed Oil, Lemongrass Organic Essential Oil, Rosemary Organic Essential Oil, Neroli Essential Oil, Tea Tree Organic Essential Oil, Helichrysum Essential Oil, Blue Tansy Essential Oil 

How to use me  

Cleanse the skin & apply Dew Drops like normal.  Roll your SOS sparingly onto problem areas and massage into the area until absorbed. Approx. 10-15 seconds will do it. It will still feel dewy but that's ok 👌🏻 


always patch test prior to use for sensitivity & allergies. avoid use while pregnant & breastfeeding. avoid eye contact. external use only.

store in cool dark place 

*please note this product is not covered under our 30 day money back guarantee as this is an ongoing use product specifically for direct spot usage. Our 30 day money back guarantee applies to Dew Drops that are to be used consistently daily for 30 days for best results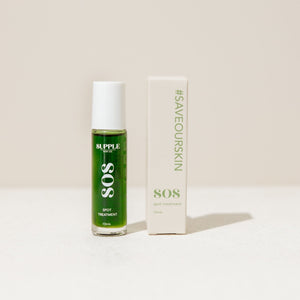 SOS Spot Treatment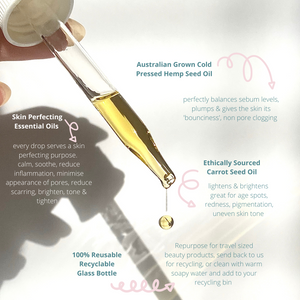 Clean, Pure Beauty
Just how us Aussies like it
You wont find any cheap or nasty fillers in any of our products. Literally every drop has its purpose and is working towards LONG TERM skin health, not just a short term quick fix. Although we're pretty good at that too.