Description
We've partnered with our favourites over at Balm Balm Co to bring you the ultimate in self care luxury. Soak, relax sore tired muscles & detox with Bathometry Rejuvenating bath soak, then nourish with our Molten 24K Gold Skin Perfecting Body Oil, and glow with our cult hero Dew Drops Face Oil. 
*Note beauty bag not included
          MOLTEN - find more info here
DEW DROPS - find more info here

BATHOMETRY: 

DIRECTIONS FOR USE 

1. Add half* the content of the soak into the bath as it's pouring

2. Relax in your bath for at least 20 minutes

3. To easily remove all of the petals from the bath before draining, use a kitchen strainer. Works a treat!

 * | DIVIDING YOUR SOAK |

1. Take the petals and orange out and set to the side

2. Seal and shake the pouch with the remaining ingredients

3. Place half the petals and half of the pouch contents into the bath as it pours

4. Place remaining petals back into the pouch and seal for future rejuvenation :)

ANIMAL-CRUELTY FREE | NATURAL AND SUSTAINABLE INGREDIENTS

 | AUS MADE | VEGAN

| INGREDIENTS |

Because you shouldn't need a science degree to know what's inside.

Magnesium Flakes and Himalayan Salt have been used to relieve skin conditions, improve sleep, relieve stress, reduce inflammation, easing muscle pain and drawing out toxins from the skin and tissues. In conjunction with the sweet, refreshing scent of Ylang Ylang and Lemon essential oils, Rose petals, Lavender flower and a gorgeous slice of Dried Orange, you will be well on your way to the ULTIMATE relaxation. 

Magnesium Flakes, Himalayan Salt, Rose Petals, Lavender Flower, Dried Orange, Lemon Essential oil, Ylang Ylang Essential oil.

 
Bath Body Skin Bundle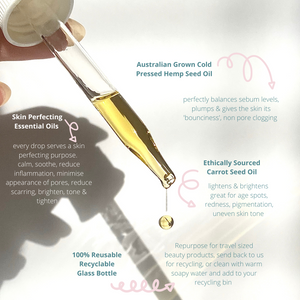 Clean, Pure Beauty
Just how us Aussies like it
You wont find any cheap or nasty fillers in any of our products. Literally every drop has its purpose and is working towards LONG TERM skin health, not just a short term quick fix. Although we're pretty good at that too.